How do you deliver fonts? By Courier!
This tutorial will teach you how to resolve the following error:
Font(s) referenced (Font-Name) must first be added to this organization. Upload Font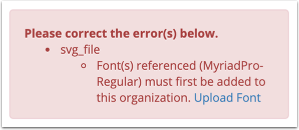 Got an error stating that your font isn't uploaded even though it is? It's probably just a naming conflict, and it's easy to fix! Here's how to do this:
Manage Fonts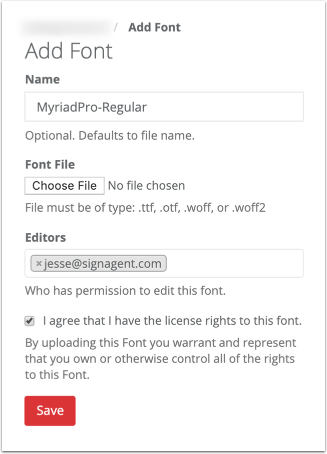 Go to the Manage Fonts page by clicking on the organization name, and then choosing Manage Fonts
If you haven't uploaded the font at all yet, you should do that first. You can do this just by clicking the New Font button and going from there.
If you have uploaded the font and you're still getting this error, you probably just need to adjust the name slightly so it matches what SignAgent is expecting. In this example, I would call my font "MyriadPro-Regular". You should copy this directly from the error message so you can be sure that it matches exactly.
Try uploading your template again.
The reason this happens is because sometimes fonts have a different File Name than their internal name. By adjusting the name of the font when you upload it, you resolve the issue without changing the font itself.
Still not working? Contact SignAgent support for further assistance.