SignAgent has organized a bank of open-source templates for quick and easy sign deployment in the fight against COVID-19. They're intended to be used in hospitals and other public spaces to keep people safe and informed.

This tutorial will show you how to access sign resources from this shared bank.
These can be used for free with no need to name sources or provide credit.
1. Choose Import Sign Types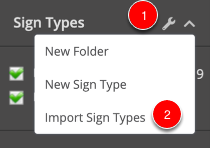 Go to the organization you'd like to add these COVID-19 Sign Types to. Then, click on the wrench in the "Sign Types" section of the left-hand sidebar, and choose the Import Sign Types option.
2. Choose Sign Family to Import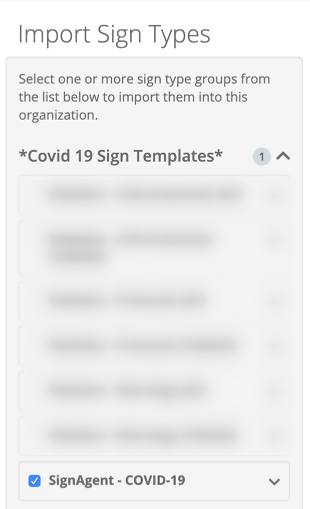 Next, choose your folder of sign types that you'd like to import in. The COVID-19 Sign Types can be found in the organization "*COVID 19 Sign Templates*"
It should be right at the top of the list
Choose the sign family that you'd like, and choose Import Sign Types (not shown). This may take a few minutes
Note that this process will just run in the background and you'll get a notification when this has completed (it shouldn't take long).
You can then refresh your screen and the new folder should appear.
3. Complete!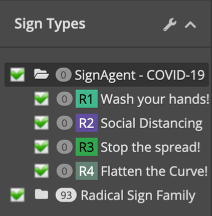 You can now see all the sign types that you've imported in from the COVID 19 Sign Templates organization.
This will also import any and all fields, fonts, and visuals that are used by the original sign types.