Know the scale of your location plans? You can now put that into SignAgent for all sorts of useful features, including in-app distance measurements, real-size sign markers, and more!
1. Add Scale to Location Plan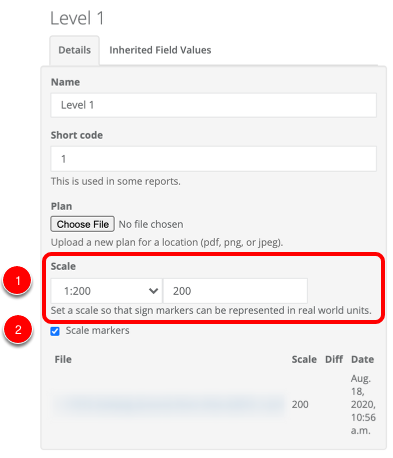 Set the scale for your floor plan. You can choose from one of the options in the drop-down, or you can add your own.
You can also choose whether or not to Scale Markers.

If this is selected, then markers will use the markers and sizes set out in the "Scaled Markers" section of the "Markers" tab for each Sign Type. See more info on that here: under section 3.1 Scaled Markers
If this is not selected, then signs will scale up and down based on your zoom level, just like they usually do.
Note that if a sign does not have a specific Scaled Marker set, it will continue to use the default marker and scale up and down based on your zoom level
Once a scale has been set for a location, all updated plans must be uploaded with the same scale to preserve sign marker placement.
Want information on the Measurement Tool? Check out the article here: Measurement Tool